These machine is mainly useful for the sealing and packing of cartons, which can be single - unit operation or also equipped on to the production line. It is widely used in the field of electrical domestic appliances, foodstuffs, general merchandise, medicine and chemical industry.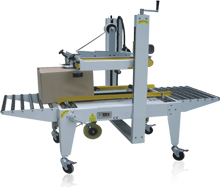 Semi Automatic Carton Sealer
Top and bottom drive belts Inter changeable top bottom tape cartridge 2" / 3" top and bottom tape head Tape overlap length can be adjusted from 55mm-65mm to 75mm infeed /outfeed (Optional) Roller working table Manual top squeezers blade guards Crank handle adjust leg height adjustment 240mm Caster Wheel with locking.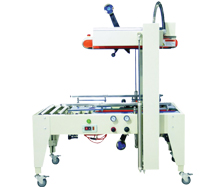 Fully Automatic Carton Sealer
Automatic Carton Sealer's driving sealing height and two sides clamping width is automatically adjusted by photoelectric and pneumatic mechanism, which can be adjusted at will handy and covenient.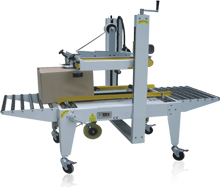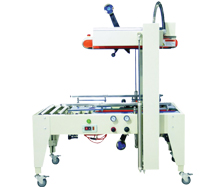 Model
Semi Automatic Carton Sealer
Fully Automatic Carton Sealer
Conveyor Speed
0-20m/min
24m/min
Max. Package Size
W 500 x H 600mm
W 500 x H 500mm
Min. Package Size
W 140 x H 150
W 170 x H 100 x 150mm
Power Supply
220-240v / 50-60Hz, 1 Phase
Power Consumption
180w
220w
Width of Tape(mm)
36, 48, 60, 72
48, 60, 72
Machine Size
166 x 74 x 159 cm
1150 x 660 x 1420
Machine Weight
120kg
150kg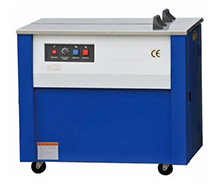 Semi Automatic Strapping Machine
Features
Instant heating in only 20 seconds
Durable electro-magnetic clutch transmission increase motor life, strapping speed and reduce overall machine noise
The unique design of control switch, independent PCB control for feeding & heating make the unit maintenance friendly.
One Touch machine operation energy saving mode activates within 1.5 sec of non-use and allows for instant operation
Stainless steel frame is aviailable for strapping moisturized products.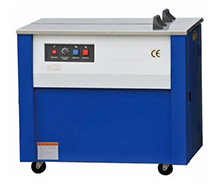 Specification
Model
FP 90 High-Table/ FP 90DU Double Door
FP 90L Low- Table Strapping Machine
FP- 96 Strapping Machine
Strapping Speed
1.5 Seconds/ Strap
1.5 Seconds/ Strap
Strapping Force
60 kg.(max)
60 kg.
Strap Width
9.15mm
9.15mm
Power Supply & Consumption
220v, 50/60 Hz / 0.65 KW - 1Phase
220v, 50/60 Hz / 0.65 KW
Dimensions
895 x 565 x 735 mmH
1570 x 565 x 480 mmH
895(L) x 540(w) x 835mmH
Dimensions
90 kg
80 kg
80 kg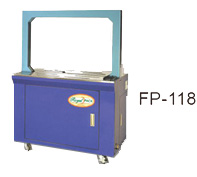 Automatic Strapping Machine
Features
Fast Strap Change : Front loading and inserting of strap for convenient service
Ergonomic Design : Provides comfortable and safe operation for various sizes, shapes and materials of straps.
Fast Strapping: Strapping is quickly accomplished in only 1.5 seconds.
Simplified Structures: Makes unit easy to operate and maintain.
Safely: The spool dispenser is built inside the machine CE certified electronic components ensure dependable control.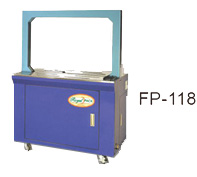 Specification
| | | |
| --- | --- | --- |
| Model | FP 118 Automatic | FP 600 Pallet Semi Automatic |
| Strapping Speed: | 30 Straps/min | 2.5 Sec/Strap |
| Machine Tension: | 10 - 70 kg | 5-60kgs |
| Strap Width: | 9-15mm (PP or PE) | 12-15mm (PP or PE) |
| Power : 1 Phase | AC, 220v, 50/60 Hz-0.4kw | AC, 220v, 50/60 Hz-0.3kw |
| Weight | 142kg | 80kg |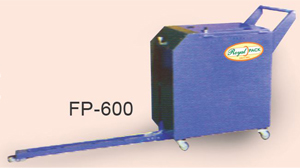 Table - Type Semi Automatic Strapping Machine
Features
Model FPT is suitable for packing small packs such as bank note, financial documents, parcel post press work and gift etc. It is widely used in differnt fields such as post office, bank and book store.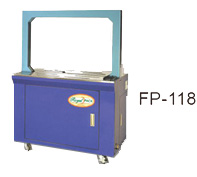 Specification
| | |
| --- | --- |
| Model | FPT |
| Voltage | AC 220/50 110/60 |
| Power Consumption | 90w |
| Max. Strapping size(W x H)(mm) | Not Stipulated |
| Min. Strapping size(W x H)(mm) | 60 x 15 |
| Strapping Speed: | 1.8 Sec/Strap |
| Width of Strapping Belt(mm) | 6-10 |
| Dimension (L x W x H)(mm) | 665 x 335 x 200 |
| Net Weight | 18kg |